I am a London-based artist and filmmaker born in the USSR and brought up in the Republic of Georgia. I work across film, photography, writing and sculpture. For a time I worked anonymously as
Clara Emigrand
collective, examining political conflict through a feminist lens and disseminating my work outside the gallery circuit. My work is marked by precarity and explores the poetic potential of uncertainty. A desire for community (both actual and imaginary) drives my mythopoetic narratives and processes of subverting traditional ethnographic forms through imagination, relatedness and humour. My films often start out as documentaries before expanding into more hybrid forms, in order to disrupt viewer's expectations of both cinematic techniques and exotic landscape.
My filmmaking method is democratic and elevatory, it has a strong collaborative element. Over the past five years I have been working closely with the nomadic Tush community in North-east Georgia -
Tusheti Trilogy
is one outcome of that process. I have recently completed my experimental feature
Let us Flow,
over the past two decades I directed numerous short films (
Jackals anddrones, Children and language, Black Sea is really Black
) that have been exhibited and screened worldwide, including at Tate Modern, OUTPOST Gallery, Paris Internationale, CAC Brétigny, LUX London, Fondation Vincent van Gogh, Serpentine Cinema, Kunstmuseum Luzern, Berwick film festival, Kasseler Dokfest, EMAF, Short film festival Oberhausen and others.
I received BA in film from Georgian State University of Theatre and Film (2001), I hold MA in Fine Art Photography from London College of Communication (2005) and MFA from Goldsmiths College (2016). In 2019 I was a recipients of Projections Commissions at Tyneside Cinema, in 2018 I was awarded two development awards at Lo Schermo dell'arte (Florence). I am a 2023 guest artist at Le Cyclop de Jean Tinguely (Île-de-France).
My works are distributed by
LUX
.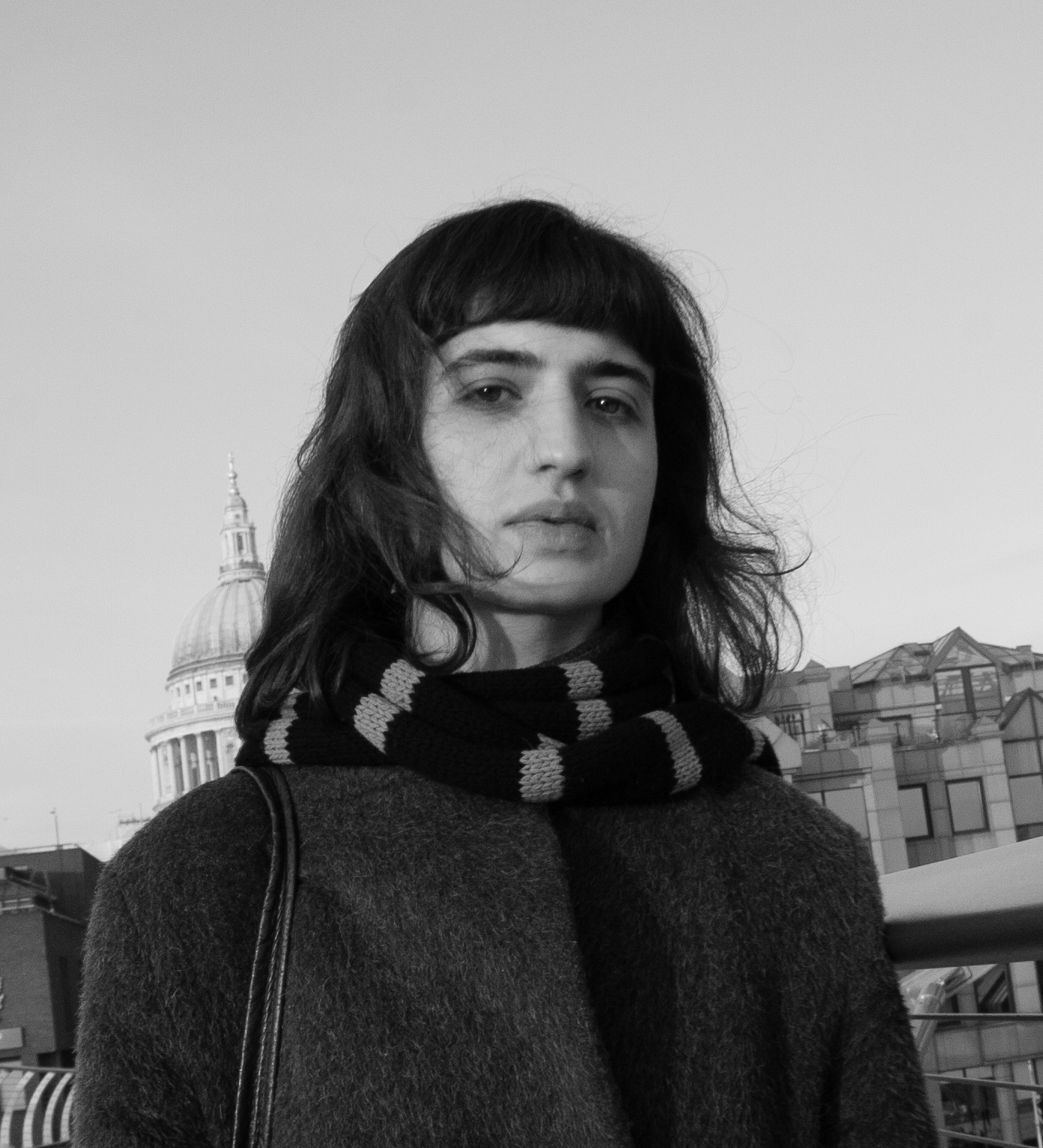 CV

Education
2016 MFA in Fine Art (Studio practice), Goldsmiths, University of London
2005 MA in Fine Art Photography, London College of Communication, UAL
2001 BA in Film, Georgian National Institute of Theatre and Cinema, (TAFU)

Solo Exhibitions and Screenings
2023 New film commission, Le Cyclop, Milly-la-Forêt, France
2022 Sophio Medoidze: Kotori, Tate Modern, Southbank, London
Artificial Sleep (Her her her her her her her HER), OUTPOST Gallery, UK
2021 Sophio Medoidze, In focus (curated by Adam Pugh), Intersección, A coruna, Galicia
2020 Sophio Medoidze: Jackals and Drones, LUX London, UK
2019 Xitana, Projections Commissions, Tyneside Cinema, Newcastle (and touring to UK cinemas)
2018 Sophio Medoidze, AB-JOY, Serpentine Cinema (Serpentine Gallery), Peckhamplex, London
2010 Sophio Medoidze & Tank.tv, MRA projects space, London
2008 Laboratory For The Future, Swiss Cottage Gallery, London

Group Exhibitions and Screenings
2023 Tusheti Trilogy at Le Cyclop by Jean Tinguely, Milly-la-Forêt, France
Let us Flow, New Cinema Awards, Berwick Film and Media Arts festival, UK
2022 Let us Flow (Part one), Kassel Documentary film and video festival, Germany
Black Sea is really black, Liquid Structures, Batumi, Georgia
Drück nur auf die Klinke, Jägerschere Gallery for Contemporary Art, Germany
2021 Paris Internationale, duo presentation with Melike Kara, LC Queisser, Paris, Fr
Bastard Sun, Oxygen Biennial of Contemporary Arts, Tbilisi, Georgia
Scallops #1, a collaboration between Ermes Ermes & LC Queisser, Vienna
2020 Sâr Dubnotal, curated by Damien Delille and Céline Poulin, CAC Brétigny, France
Three, four trees, E.A. Shared space, Tbilisi, Georgia
Desire Night, IMMA, Irish Museum of Modern Art, Dublin
Three positions with E.A. Shared space, Contemporary Istanbul, Turkey
2019 Long Story Short (Part of Pirosmani Exhibition), Foundation Vincent van Gogh, Arles
Hotel Europa, Open Space (Part of Tbilisi art fair), Tbilisi
Projections touring programme, HOMEmcr, Hyde Park Picture House, Plymouth arts cinema,
Watershed, Exeter Phoenix and others
Printed Matter's LA art book fair, with Danarti zine, Los Angeles
Sergei Paradjanov: Reminiscence, Close Up Cinema, London
2018 Jackals and Drones: Chronicles of A summer, In focus, Festival Scope, online
2017 Love among the Artists, invited by Laure Prouvost, Kunstmuseum Luzern, Switzerland
2016 MFA final year show, Laure Grove Baths, Goldsmiths, London
Georgian arthouse cinema, Veto Films, B-movie cinema, Hambur
2015 EX(C)IT(e), Sixtyeight Institute, Copenhagen (two person)
Black sea is really black, Best video awards, Avanca film festival, Aveiro
Art Wall, curated by Wato Tsereteli (CCA Tbilisi), Tbilisi
2013 We are only in it for Money, Princess Alice, London
2012 Westworld at Xero, Kline, Coma, London
2010 All That Glitters is not Institution, Whitechapel Gallery, London
This Is Not a Gateway, Hanbury Hall, London
Artist's film and video, 2nd Georgian Film Festival, Riverside studios, London
After Paradjanov: Artists' film and video from Georgia, Arnolfini, Bristol
After Paradjanov: Artists film and video from Georgia, Pushkin House, London
2009 22nd Instants video, Qattan Foundation, Ramallah
Interzone/City, Galerija Galzenica, Zagreb
2008 Salon 08 awards, VINEspace Gallery, Vyner Street, London
Contemporary Georgian Photography, F Gallery, Kaunas
2006 Artconcept, Festival of conceptual art, St Petersburg
2005 MFA Photography degree show, Well Galleries, London college of printing
Insomnia (Part of the Refugee Week), Oxo Tower, South Bank, London

Nominations and Awards
2023 Berwick New Cinema Award for Let us Flow
2022 Georgian National Film Centre, Documentary film funding
Longlisted for Derek Jarman award
2021 Arts Council England Project Grants
2020 Longlisted for Derek Jarman award
Elephant Trust project grant
2019 Longlisted for Arts foundation award (Experimental film)
Artists' roundtable with On&For (Auguste Orts), Brussels
Longlisted for Derek Jarman award
Shortlisted for FLAMIN productions round 8
Projections Commissions, Tyneside cinema, Newcastle
Feature Expanded development and SUBti awards, Lo Schermo dell'arte and HOMEer
(Jury formed by Andrea Lissoni, Hila Peleg and Anna Lena Vaney)

Talks and Lectures
2022 C-MAP Seminar, MoMA, The Museum of Modern Art, New York
Artist talk, Conditions studios, Croydon, London
Artist talk, Goldsmiths MFA Fine Art, London
2021 Visiting lecturer, London College of Communication, UAL
2019 Jury member for Projections Commissions, Newcastle
Visiting lecturer, Richmond American University, London
2014 Visiting Tutor, BA Fine Art, Camberwell College of Arts, London

Curatorial Projects
2009 Artists' film and video from Georgia, co-curated with Laure Prouvost and TANK.Tv
2nd Georgian film festival, curator of artists' cinema, Riverside studios, London

Publications
2015 Great Amnesiac and Other Stories, CE publishing, London (*self-published)

Selected Press
Let Us Flow: this mesmerising Georgian documentary combines the personal with the mythopoetic,
Sight and Sound, BFI
A conversation between Millie Norman and Sophio Medoidze, OUTPOST Gallery
Arthouse films and dark comedy, Matt Janney, The Calvert Journal
What I am looking for is where the lines converge, LUX
Projections Commissions at Tyneside Cinema, Ben Eastham, ArtReview
Mike Sperlinger on 'Xitana', online and print publication
Sophio Medoidze in conversation with Maria Palacios Cruz, LUX
Jackals and Drones, videos by Sophio Medoidze, Mackinnon-Little, TANK Magazine
Twelve woman gone missing, S. Obolashvili, Forbes Georgia
Tbilisi, Roses from the rubble, HG Master, ArtAsiaPacific
The Lovers, Danarti Magazine, Issue 5, Kunsthalle Zurich
Interview with Sophio Medoidze, O Rukhadze, Radio Liberty/Free Europe
Interview with Sophio Medoidze, Radio Gipa, Tbilisi
Educational Changes, Sh McGregor, Huffington Post
The Year in Pictures, Axis Magazine
Olympic Art attack, F Brooks, Hackney Citizen
Interview with Sophio Medoidze, Radio 101 Zagreb,
Portfolio Request