Details
Did
Disappeared

A series of photographs of the UK Home Office branch,
where the artist was regularly interviewed for her family's asylum application,
between 2001 and 2004.

Medium format photographs, found sound, text.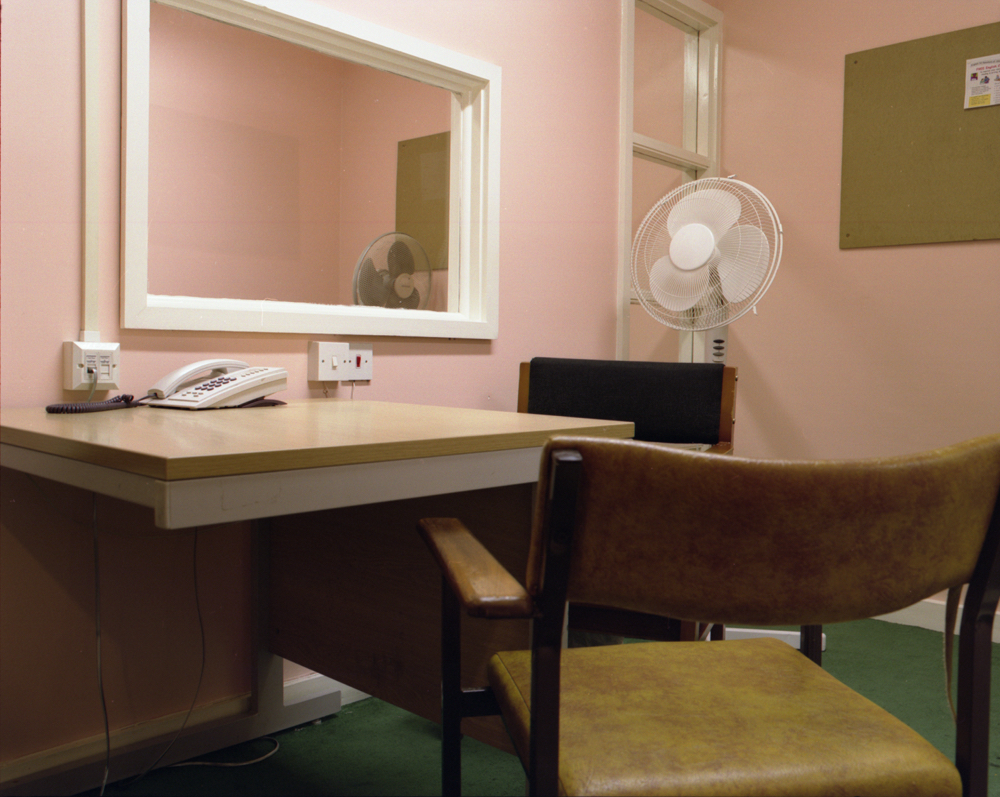 THE OFFICE

"The word, gentlemen, is a public concern of the first importance." DADA Manifesto.

It started one day in November in n district of n city, an ordinary day in every respect that is it was cold, damp and grey, when I was summoned to the n branch of the OFFICE that was dealing exclusively with my kind of people, i.e. country- less people, not in possession of the precious bundle of paper commonly known as the PASSPORT. And there I was, sitting in an overheated waiting room with pink walls carefully decorated with overexposed photographs of Somalis and Samaritans, printed out on thin office paper.
The first thing that strikes you in such a place is the sound. The usual office repertoire of doors opened and closed in prolonged movements, traffic noises from outside and the rhythmic ticking of an oversized clock were diversified by random cries of babies in pushchairs, followed by hurried comments from their seemingly annoyed mothers.


Excerpt from Sophio Medoidze's upcoming publication Bastard Sun (published by DISTANZ &KONA books).

First exhibited at OXO Tower, Southbank, during the Refugee week 2005.

Dear friend

Spam letters to art Institutions, 2006 -

Dear friend,
Forgive me for not writing all this time. Of course I have not forgotten about you. The thing is that I have changed a lot since I moved here and if this is true then I no longer have any acquaintances and do not have to write to anyone, as I am a complete stranger to them. A little explanation about why I have not replied to all the letters you've sent me. I will tell you later about my decision to write now.
You are asking whether I have learnt the language and if I can read and write easily. Well, I don't know how to explain, but I have learnt it without understand- ing it. For example, sometimes I am walking on the street and somebody asks me for directions, something fairly simple, but I cannot explain. That said, I have been working as an interpreter for a local hospital for two years now and they even raised my salary last week. It's a complete mystery. If you remember I was always good at languages, but it seems that sometimes my body refuses to speak any other language than ours: it comes like a sudden fit; a reaction to I don't know what. This got me into some trouble at the beginning but I've got used to that now.
Apart from this, things are really going well. I moved to this beautiful town last year, when I got fed up with the city. It's much nicer here. The climate is mild and people are friendly: they say Hello and smile and I smile back. I live with my dog Sarah in a pretty stone house in a historic part of the town. Here's a picture of Sarah with my downstairs neighbour. She took her for a walk that day and broke her knee on the stairs, poor thing. She has not completely recovered since but still insists on taking Sarah for a walk.
What else?
There's a flower market opposite and it gets very busy on Sundays: the trucks start unloading before dawn and I can hear the workers shouting, giving directions. Or sometimes there is a huge bang, like the sound of breaking glass, and the footsteps of people running to and fro. I never get any sleep on Saturdays but I still try to go there every Sunday to see what I have been hearing overnight, and usually it's a beautiful sight!
I have just read that the flower market has been here for a while and the adjacent building where I live was once a flower storage place.
The house itself is very old. It's got a lot of character and my bedroom window is overlooking the river. This can be a bit of nuisance in summer because of the insects, but even then I can put up a net. There is a south-facing garden with a vineyard, and last autumn I made a hundred litres of wine with the grapes from my very own garden. I am still sipping the last bottle as I write and I assure you it's quite good.
Every evening I take a walk on the riverside. There are some beautiful bridges and you always see lots of tourists taking pictures. There's one bridge I particularly like, and I went to the local library to find out about it. I would have never guessed that apparently it's a replica of a very old bridge that collapsed a few years ago, killing hundreds of people, as there was a boat race and the bridge happened to be the best spot for watching them cross the finishing line. I think not many people know that; some even think that it's really an old bridge.
Most of my friends are connected to music and I hope to eventually get back to making music again. I shall quit the interpreting job and maybe start giving music lessons. At the moment this is not really possible, due to my fits mainly, as they come and go very suddenly. I had one this morning at the bakery and I ended up buying whatever they thought I wanted. I will try to go there later in the afternoon.
That's it for now, I can't think of anything else to write.
Now, I have to ask you a favour and I really hope you might be able to help me. The thing is that I have to get rid of these fits, otherwise I might have to come back and that would be a complete disaster.
Here's what I want you to do. Go to my old house: you will find the keys on the shelf above the door—you might need a chair to reach it—go to the upstairs bedroom and look for a small book with a red cover. I am sure I've left it on the bedside table under the window. Please take the book to the post office and send it to my address. I am certain that the answer to my troubles lies in that small book. But I cannot tell you any more than this.
Yours Truly,
Clara Emigrand